Trump Sharing Independence Day Meme Featuring Himself
Trump's Fight
Trump, as surreal as he is as a President, never fails to make a fool out of himself when it comes to Twitter memes.
Again he is back amidst the entire coronavirus situation, with a new meme regarding the Hollywood movie 'Independence Day'.
His face and his supporters' faces were all photoshopped on the actors' faces and put up on Twitter by himself.
The scene which has taken a meme-avatar now, Bill Pulman, the actor was giving a speech, playing the role of the US President.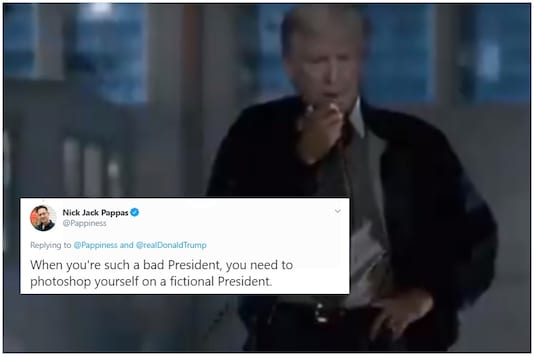 Trump's Remarks
The world, in the movie, was under the threat of an alien attack( note: now it's under a bat's attack, *shrugs*).
Therein, the fictional President motivates his supporters to be brave and not go quietly into the nigHT.
He drives them to fight the aliens with full strength and vigour that they possess.
In the movie, the speech had won the admiration of a huge audience as well as some pilots.
In the meme, however, we see Trump's Fox fans and his daughter Ivanka being a part of the cheering crowd, among others.
The pilots are the citizens of America, and Trump is very slyly asking them to get over their meagre differences and fight against one common enemy.
Trump Succession
This, if at all, was condemned by everyone alike, given the pitiful situation America is right now.
Trump's handling of the whole coronavirus situation has already been condemned and now the meme has infuriated his protestors even more.
He was blamed for being such shallow minded when around 90,000 people were dead and hundreds of thousands were suffering each day.
The post received a huge backlash with critics slamming the 45th President, while others made a meme out of his meme.
One of them read "When you are such a bad President, you need to photoshop yourself on a fictional President." Well.