Omegle Alternative Chats With Strangers
2020 has been one of the most memorable years for us. It marked the beginning of a new decade.
However, everything changed when the Covid-19 pandemic hit the world.
Then came lockdown, and work from home became the new norm.
You never signed up for this sh**.
For some, staying at home all the time was tiring and some discovered a new way to get connected with strangers.
One such way was Omegle. It's a site that connects you with random strangers in real-time. You can send a plain text or meet them over a video call.
Initially, the website was great however, with a sudden surge in viewership, Omegle has become overpopulated. Even that wasn't enough, it's lacking behind in filtering 18+ live feeds.
So, how to avoid this?
Well, for starters, you can try using other sites like Omegle. Sites that are somewhat similar to Omegle but with some improvements or necessary changes. If any of these websites meet your requirement, you can switch it over with Omegle to get the best experience. Now, let's get started:
Show more: Can We Expect Days Gone 2?
TinyChat

TinyChat is the 1st online video chat alternative to Omegle.
Starting out in 2009 as an online chat website, TinyChat transformed into a video chat and voice chat website. Now, it allows you to talk to a group of people who have the same interests.
If you don't want to join a group, TinyChat lets you create a room with your interests. The user will find you. However, this time, you're the admin. You've got the authority to add or kick out your followers. Apart from this, you can use TinyChat to watch live streams or online videos with the active members in your room.
That's all about its features. Now let's look at its achievements. To date, the company claims to produce airtime of 5 million minutes per day. Sometime back TinyChat added 3 monthly subscription plans Pro/extreme/gold at $4.14/$6.22/$37.49 per month to unlock premium benefits.
Pros:
TinyChat lets you've 12 video feeds in a room.
Room creators can add or kick members.
TinyChat allows you to watch videos and live streams with the room members.
Smartphone apps are available for Android and iPhone users.
Cons:
Upgrade costs you real money.
Upgrade to Gold membership is quite expensive.
Limited features for free TinyChat users.
Chatroulette
Chatroulette is the 2nd site that's the alternative to Omegle. Founded by a 17-year old boy named Andrey Ternovskiy in 2009, Chatroulette is considered one of the best sites like Omegle.
Andrey Ternovskiy got the idea of creating an online video website from Skype and its name 'Chatroulette' originated from a 1978 film 'The deer hunter'.
Now coming to the website itself, it's similar to other sites like Omegle where you communicate with completely random people. It's a great alternative, especially when you prefer video chatting in real-time over texting.
You can connect with millions of its users based on your interests, topics. However, sometimes, this goes over the board with some explicit topics.
Chatroulette then introduced a feature called "filtered chat" where you can opt-out from some explicit topics. Even since its creation, Omegle has become a platform where inappropriate behavior is at its peak. And after several years of trial and error, Chatroulette has finally reached the point where it can effectively filter out inappropriate behavior.
Once you're connected with a stranger, it's up to you how you drive that conversation. If you say or do something inappropriate, the connected partner has an option to kill the conversation with you.
And once the conversation is killed, Chatroulette tries to pair you up with someone new.
Plug in a webcam and a microphone to your computer and you're all set to explore a new world of Chatroulette.
Read More: The Credit Score You Need to Get a Grad School Loan
Pros:
Filter chat option available.
Instant connects or kills a conversation.
Cons:
Online available via its website.
ChatRandom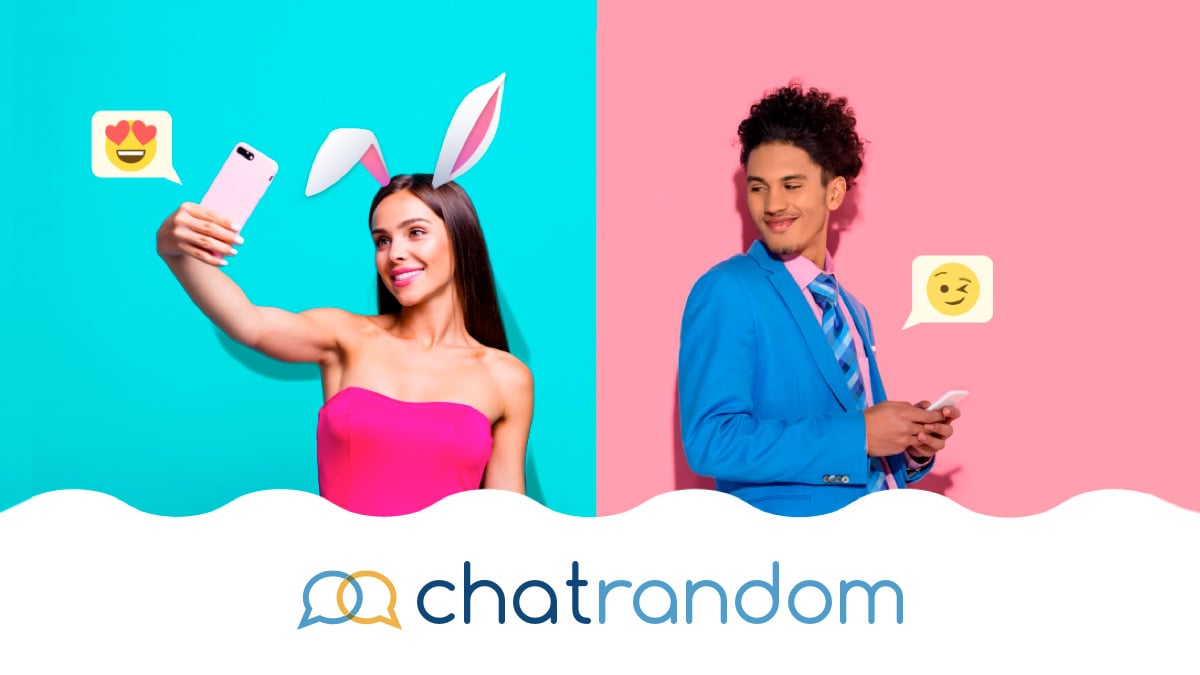 ChatRandom is the 3rd site like Omegle where you can do random video chatting with strangers. When compared with the two sites mentioned above, TinyChat & Chatroulette, ChatRandom offers quite an easy setup process.
There's no need for you to create an account and vice versa. Aaj you need to do is select your gender, verify your age to be 18+ and you're on board to connect with thousands of its active users. Here, ChatRandom will do everything for you in your comfort. Once all this is done, you can preferably filter the country list to get users from s particular country.
ChatRandom is available in two formats – a web version and an Android app. If you use the web version, you get the basic features like connecting with random strangers, getting into chat rooms. However, if you go with the Android app, you get to some of its exclusive features like connecting with users of a certain region, 18+ zone.
When ChatRandom was created, its main goal was to become a popular name like Facebook, Twitter, and YouTube. However, it hasn't reached that level yet but it's giving tough competition to Omegle and other sites like Omegle.
Pros:
Allows you to connect with one person, a group, and even a girl at once.
Available in the web version and Android app.
Connect with random strangers based on your country and language.
Cons:
No iOS version is available yet.
OmeTV
OmeTV is the 4th site in the list of sites like Omegle. Even though the website is not at the top, the easiest way to connect with the other user. All you've to do is press a single button and you're done.
OmeTV offers its service in the web version, Android app, and iOS smartphones. OmeTV lets you see the number of active users on the site and that too in real-time. You can further sort down the list by adding the filters based on country, gender, and others.
At OmeTV, you can upload your pictures & browser through unlimited pictures to find a match for yourself. You can OmeTV in the web version and the Android app.
Also Check: All You Need To Know About The Good Fight Season 5!
Pros:
No memberships. No registrations are needed. OmeTV is completely free to use.
Despite the fact that it's a freemium app, you won't see even a single ad. on the app.
If the camera in your smartphone isn't working or the internet isn't fast enough, OmeTV allows you to use text messages for communicating.
Cons:
FaceFlow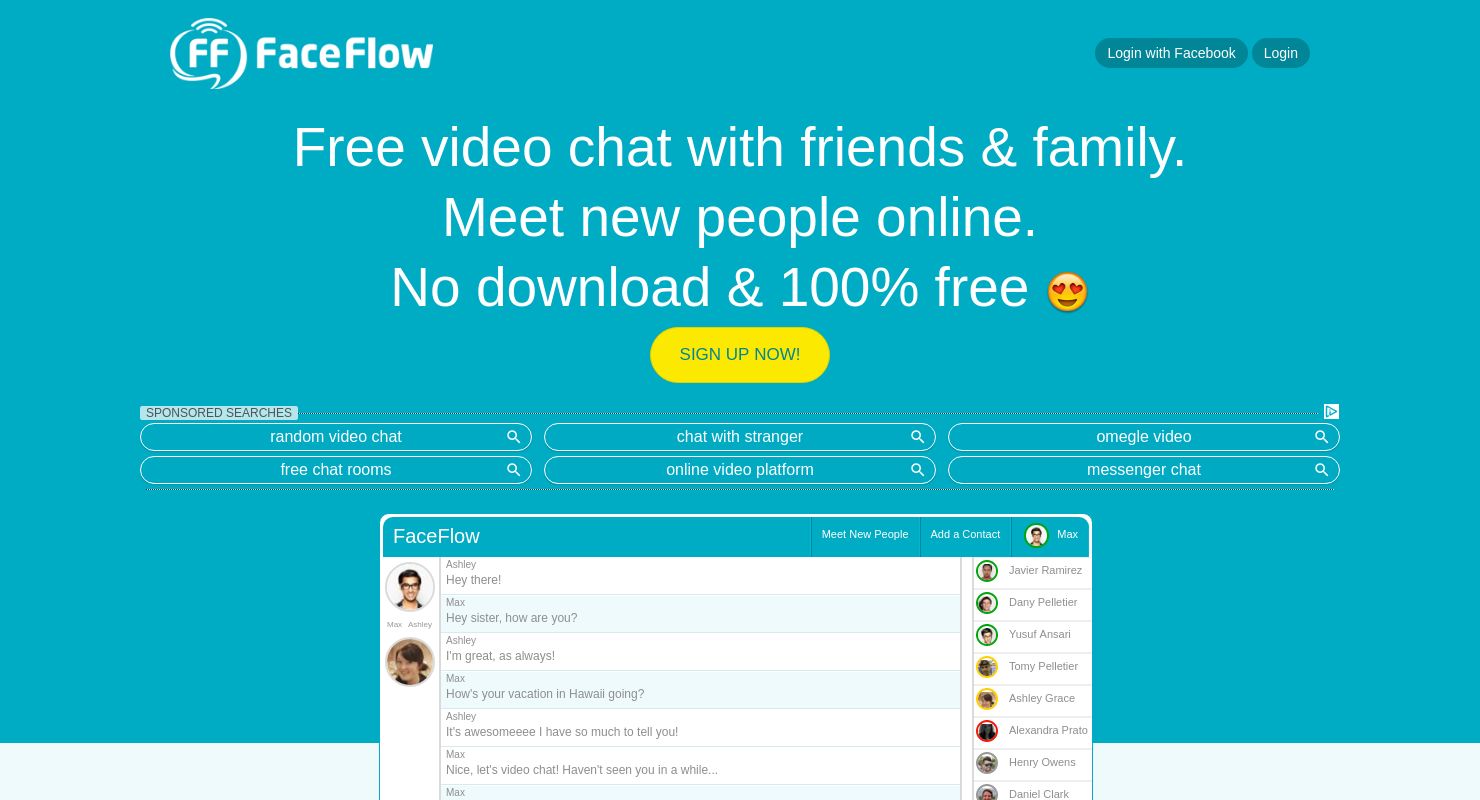 FaceFlow has taken 5th place in this list of sites like Omegle. In the online video chat segment, FaceFlow introduced a new level of social networking with up to three users at a time. That's not it. There's a ton of things you can do with FaceFlow.
FaceFlow allows you to make 1 on 1 Video calls to your friend, group video calls for a conference with multiple friends with anyone from all over the world.
Instead of calling your friends, you want to meet random strangers on a video call, FaceFlow lets you use WebRTC, state-of-the-art web-based technology for video chat.
If you're interested in connecting over a video call, FaceFlow joins free public chat rooms where you can meet and chat with random strangers. But this time, the chat is based on sending and receiving texts.
The text chats further let you send emojis, images, and videos, etc.
However, to do all this, you need to create an account at FaceFlow. Unlike other sites like Omegle, you can't access any of the site features without signing in to your FaceFlow account.
Pros:
Record and send high-quality voice messages.
24/7 moderators support is available in online chat rooms.
Create a custom chat link and share it with others to chat anonymously.
No download is required.
Supports video calling.
Cons:
No Android or iOS app support is available.
ChatHub
ChatHub has grabbed 6th place in this list of sites like Omegle. ChatHub is designed only to connect you with its millions of users in the easiest possible way. It's available in the website format & an Android app.
To use it on the desktop, head over to ChatHub.com & specify your gender to start chatting. Once done, you're prompted to a new window where you're asked to choose a chat room:
Talk (Go to the Main Room)
Flirt (Go to the Adult Room)
Next, you'll be prompted with Advanced Settings. Here, ChatHub will ask you to enable 3 options:
The first one 'With Face' will match you with those who have the face option enabled in the advanced settings.
The second option is to 'With Mic ON'. Here, you'll be connected with those who've enabled their MIC.
And last but not least is 'Expand Filter IN'. Here, you can expand the filters in XXXX seconds. After enabling Camera, Mic, & Expand filters, click on search partners to begin looking for the partners.
ChatHub further lets you change the language & country as per your preference or else you'll be connected to strangers randomly.
ChatHub allows provides a special feature for females where they can look for 4 people at one time & select the one they liked. And if anyone does any appropriate behavior, you can instantly block them over using the block option.
More Item: Find Your IP Address | Windows | MAC | Android
Pros:
Provides advanced filters.
Different sections for Normal & Adult talks.
A special feature for females allows you to connect with 4 users at a time.
Android app is available.
Cons:
No app for iPhone/iPad users.
ChatRad
ChatRad is the 7th website in this list of sites like Omegle. Unlike the other sites mentioned in this list, ChatRad claims to be a G-rated version of sites like Chatroulette. If you don't behave properly online, they'll ban you instantly. ChatRad wants its users to interact with others in a way they interact with them in the real world.
Here, you can't expect to roam around naked without any repercussions. If you've been doing the same on other sites like Omegle – Stop Right there! You won't get much success here. In the end, all this would be quite tough for you.
ChatRad does not have any kind of apps. So, the only option you get to chat with strangers is their website. On its homepage, ChatRad asks you to specify your gender, & give consent for your age. Once done, allow Camera & Microphone permissions & ChatRad will begin searching the partners for you.
On the live video chat panel, ChatRad allows you to apply a country filter & preferred Gender filter. The country filter doesn't require any logins whereas to set the preferred gender, you must create an account at ChatRad. Once done, the website lets you choose from:
Male.
Female.
And Couples.
Pros:
24/7 team of moderators.
Protects you from Adult Behaviour. Hence, a safe environment.
Strict policies against inappropriate behavior.
Connect you around topics of interest rather than sexual proclivity.
Bazoocam
Bazoocam is the 8th website in the list of sites like Omegle. Every website listed in this post featured a unique and modern user interface. However, Bazoocam is an exception. It lacks way behind in these aspects of online video chat.
And this can put some users off this platform. However, when it comes to user moderation, it's giving a tough fight to fights sites like Omegle. You can test this yourself. First, allow the website to use your microphone and camera. Once done, play with the filters to get connected with an audience based on your requirement.
Pros:
Effective moderation system.
Cons:
Old user interface.
No new features.
Available only on the website.
Rules For Meeting Strangers Online
Now that you're aware of doing other sites like important, it's important for you to follow certain guidelines when using these websites. Otherwise, you may get into some trouble.
Remember, whatever you do on these sites can be recorded and used against you. Don't do or say anything you might later regret. Your chat, text, audio, or video can easily be recorded and used against you.
If someone is bullying you on sites like Omegle, report the incident and Blacklist the user, and do the same if you're witnessing someone getting bullied.
Sharing your personal information with a complete stranger may lead you to become the target of a professional scammer.
Before connecting with a stranger over a video chat, make sure there's nothing personal like your family photo in your background. The background information may lead someone to track you down.
Final Words
Even though these sites like Omegle are heavily moderated in real-time, it's important for you to stay away from smartass scammers. It's better to be safe than sorry. That is all for now. If you think this post can teach your friends and family in staying safe, do share it with them.