For more than a decade, Roblox has been there in the gaming world. Entertaining its fans. Giving them full freedom to create their own games.
And that's not even the best part.
Roblox lets its players join in the games created by other players. Select a gaming genre and start hosting the game you desperately want to play with your friends.
I guess that's why Roblox has such a massive fan base. I won't go deep into this.
Instead, in this post, I would address the issue caused by the error code 267.
How does this error ruin my overall gaming experience? And if you're having the same issue, how you can fix that with some easy solution. Let's get started:
Read more: Top 9 Kissanime Alternatives Of 2021
What's Error Code 267 in Roblox
First thing first, what's this Roblox error causing so much noise in the Roblox community.
In the gaming community, bugs, game crashes are not such a big thing. This happens with almost every has out in the open.
Some days back, I was playing Roblox with my buddies and suddenly, I'm DISCONNECTED.
Kicked out of the game. See this screenshot attached 👇: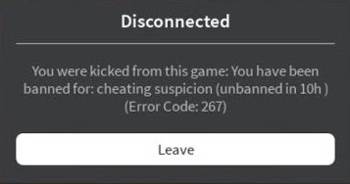 That's the error code 267. Without wasting any time, I reported this issue and at the same time, enquired about this issue in the Roblox community.
Then I realized, I'm not the only one facing this issue. So, I started implementing some random fixes. And after trying out tens of them, I've come across 5 error code 267 fixes that'll definitely work.
Before I head over to the solutions, let me tell you the reasons behind this sudden crash, blank screen, and vice versa.
Also Check: What Is Expected In Boys Season 3?
Reasons behind Roblox Error Code 267
The main reason behind users getting error code 267 is the insertion of illegal scripts. And after conflicting with either a windows firewall, empty game data, or slow internet connection, the illegal scripts force closed the game for many users.
So, before starting Roblox, there are 2 things you need to do –
Slow internet connection
If you want to have a great experience playing Roblox then the foremost thing you need to do is get a fast and stable internet connection.
Without this, your game will simply crash or stop responding. So, use a fast internet connection & avoid being kicked out.
Windows Firewall
Once again, a slower internet connection can hinder the proper functioning of your PC's firewall. As a result of this, you'll be kicked out of the game.
Roblox Error Code 267 Fixes
Even after trying the two prerequisites mentioned above, you're getting the same crashes, blank screen, these are the 5 fixes you need to get rid of error code 267:
For New: Revisiting Survivor Season 40!
Reset browser and internet settings
It's an easy but necessary step. First, go to the settings of Chrome browser installed on your pc and search for an option called reset and clean up. Here you need to either restore settings to their original defaults or clean up the computer completely. I would go with a clean slate with a second option.
Now it's time for your second task. Search for internet options in your Windows PC and from there, go to the advanced tab and click on reset the internet settings to default.
Use Fast Speed Ethernet Connection
Earlier I said slow/unstable internet connection might be the culprit behind the sudden game crash. And to fix this issue, use an Ethernet connection instead of the wireless network.
A pc connected to a wifi network might cause a delay in sending and receiving data packets. So, avoid this by opting for a faster Ethernet connection.
Disable Ad-Blockers
Ads can be a bit annoying. Be it in a video or a website. And to block these ads, some users install a third-party ad-blockers Extention in their web browser.
You should disable any active ad-blocker Extention to stop Roblox error code 267 to keep popping on your pc screen.
Browser Security Verification
A well-managed Security system saves from any possible attacks on the internet. However sometimes these security measures prevent you from playing a game.
To avoid such trivial issues, make sure you've whitelisted Roblox from your PC's security settings.
Set Google Chrome as the default browser
Last but not the least, I have a suggestion for you. Don't use any outdated browser. Instead, install the latest version of the Google Chrome Web browser and set it as your default browser.
Final Thoughts
Roblox Error Code 267 is not new. It's a common issue that's by quite a lot of players in the Roblox gaming community. All the 5 methods listed in this post worked like a charm for me.
I hope you'll fix the Roblox issue you're facing by strictly following all these steps. That's all for now. In case you need any help, feel free to contact me via the comments section given below.
Show more: Action Adventure Is On With Wu Assassins!