Scientists around the world are urging to test whether normal mouthwash can reduce coronavirus transmission. Read ahead to know more. Also, find out the theory behind this statement.
Research Conducted By Cardiff University
The researchers at Cardiff University are experimenting whether mouthwash can damage the outer lipid membrane of the coronavirus. Moreover, this would inactivate the core of the coronavirus.
The earlier research showed that the properties of the mouthwash liquid interfered with the virus. Furthermore, the low amounts of ethanol, povidone-iodine interfered with the fat membrane surrounding the virus.
Furthermore, the latest research showed similar effects. Therefore, scientists are experimenting further to make the assumption concrete and true. However, a series of steps need to be followed. WHO and CDC are all considering the tests.
Next Step
The next step is to examine both existing and new theories of mouthwash. Furthermore, the experiment will take place in labs and clinical trials. This will be followed by population-based trials.
Some elements in certain mouthwash contain enough capacity to make the lipid membrane of the virus weak. This will result in the deactivation of the virus. Moreover, it will not be active anymore.
As a result, its power or capacity to infect a human being will not exist anymore. However, every mouthwash has different properties. Therefore, the scientists are testing the correct combination of properties that will suit to be effective against the coronavirus.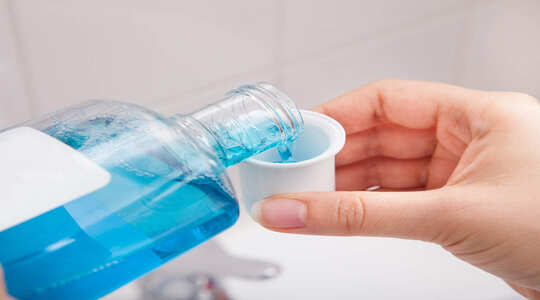 Availability Of Mouthwash To Tackle Coronavirus
If mouthwash does kill or reduce the coronavirus, are there enough in the market? The next target would be to ensure sufficient availability of mouthwash that people can buy from the market.
Moreover, they need to be available online as well so that people can place orders online in light of social distancing.