Best Manga Reader Apps For Android & IOS
After a decade, I once again picked up the latest Manga to kill some time during the lockdown. And I did discover some amazing Manga series. However, I never thought I would have such a hard time finding a decent Android app.
After going on a wild witch hunt, I found these 3 apps competing at the top.
Shonen Jump
Shonen Jump is a well-known name in the Manga world. 2 years back in 2018, Shonen Jump released its digital platform for Android and iOS smartphone users.
Today in 2020, it has become your official and trusted source of all the latest Manga coming straight out of Japan. Shonen Jump's digital platform congress with both freemium and premium versions. The free version of the app lets you:
Read the latest chapters from the trending Manga series for free and that too on the same day of its Japan release.
Read some of the popular and all-time blockbuster Manga series. The list includes – a one-piece, dragon Ball super, my hero academia, Boruto: Naruto Next Generations, and vice versa.
Find and read new chapters, recently added Manga series every week.
Download Manga for offline viewing.
Stream Manga chapters without messing up with your storage space.
Bookmark your favorite moments in a Manga chapter.
Make a one-time purchase of a Manga series.
Use landscape mode to read a Manga.
Read up to 100 Manga chapters in a day.
Whereas the premium version of the app:
Unlocks shonen Jump's digital vault of over 10,000 Manga chapters.
Let's catch up to old classics in Manga history, read the latest his from the beginning, and discover the newly released Manga series.
Provides almost every shonen jump series in the English language. From Naruto, one punch Man to Naruto, everything's available in the Orginal English language.
Unlock restriction of daily reading up to 100 Manga chapters.
Allows you to read Manga chapters without any annoying ads.
That's all its premium features. Now coming to the pricing, you can unlock all this at the fixed pricing of $1.99/month. However, if you're unsure of how the premium service will be, the app lets you opt for a 7-day free trial. If you like the service, you can purchase its monthly subscription.
In the end, the only thing I've to say is, shonen jump is one of the best manga readers to start with.
See More Stories: A Small Tour Into Netflix's Teenage Bounty Hunters!
Crunchyroll Manga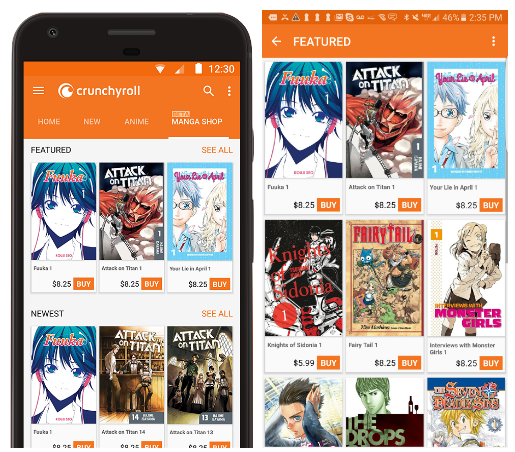 Initially released as an exclusive Manga Streaming Platform, Crunchyroll expanded its wings by launching a Manga reader and a smartphone app.
The Crunchyroll Manga app lets you access unlimited chapters from all across the Manga genres. On top of this, the app provides instant access to the hottest Manga released in Japan. The Crunchyroll as lets you read many classic Manga series including fairy tail, space brothers, and attack on Titan with these premium features:
You get access to the latest Manga chapter right after its release in Japan.
Full mobile support on both iOS and Android. This includes 'Koma-View,' to allow maximum scale per panel.
View the entire series catalog anytime, anywhere.
Unlimited reading access.
These are the premium benefits that you can unlock at $6.95/month. If you're a free user, the app lets you:
Add a Manga to your favorites list.
Add bookmark to continue reading a Manga chapter at a later time.
Change the screen orientation for a comfortable reading view.
Now comes the question – "Should you buy the Crunchyroll Manga app subscription?" Honestly speaking, the deal isn't worth the money.
Even though Crunchyroll is a renowned name in the Anime world, it lacks way behind its Manga competitor. Crunchyroll Manga app does offer a large library of Manga series but because of bad user experience, it isn't worth your time and money.
Check This Link: 5 Interesting Facts About Whiskey Cavalier!
Manga Geek
Last but not least is Manga Geek in this list. Unlike the other two spots in this list, the Manga geek app is exclusive to Android users.
It's a free app that lets you read your favorite Manga and manhua online. All you need is a working intent connection.
When you first install this app, it asks you to choose your preferred Manga source in English, French and Spanish language. These are the 4 available English sources:
Mangakakalot.com
Mangahub.io
Mangareader.net
Mangapanda.net
Agree to the legal disclaimer and you can continue using the app with either of the sources.
As it's a completely free app, you get to see banner ads on the display. If you wish to remove these ads, you can do this by joining its premium plan.
The premium plan starts from $1/month to $9.50 for a year. However, instead of the yearly plan, I recommend you to purchase its lifetime membership at $9.50. Once purchased, there's no need for you to spend another buck on the app.
Something New: Revisiting Survivor Season 40!
Manga Geek features:
It has a large database of over 40,000 free comics and Manga.
Friendly user interfaces with a creative design.
The Manga geek premium plan removes ads completely from the app.
The Manga geek app lets you read your favorite Manga in any of these 3 languages – English, French, and Spanish.
Huge Database, More than 40000 free manga, and comics
Once a new Manga chapter is available, it gets auto-updated on this list.
The Manga geek premium plan lets you use its Anime live wallpapers on your smartphone.
Even compared with the other 2 apps on the list, Manga geek is the cheapest option to read your favorite Manga. However, because of copyright, you might face trouble experiencing Manga in certain regions of the world.
Final Thoughts
That's all for now. These are the 3 best manga reader Sites and Apps to begin reading your favorite manga in 2021.
If you've used any of these platforms to read your favorite manga, do share your experience with them in the comments section given below. Your (Good or Bad) experience will help others in getting a better decision.
Read More: 5 Ultimate Tips To Keep You Safe On Social Media