5 Best Apps To Upskill Yourself During The Pandemic
The coronavirus pandemic has certainly put a hold on a lot of activities that we would have liked to pursue otherwise. But it doesn't have to put a hold on learning. And it certainly doesn't have to stop us from learning new skills, whether they be for a new job, for a hobby, or maybe just something we might want to do for personal fulfillment. We all have careers that need advancing, and aspirations to fulfill. And that is why today we have brought you a list of the 5 best apps that can help you upskill yourself and get ahead of the competition during this pandemic.
Skoove
At the top of our list today, we have Skoove. The new app, which promises to teach you piano from the basics, claims to be "the easiest way to learn piano" out there. The app offers you really fun lessons to learn the piano from basics, while also providing you valuable insights by analyzing the way you play your piece. What we like the most about Skoove is that it also takes it upon itself to teach you the piano in the best way possible by teaching you music theory and going in depth about it. Getting right into complex topics such as scale degrees, Skoove gives you the freedom to be the pianist you were meant to be.
You can check out the new Android app by Skoove to begin your learning journey. The app is currently in beta but expected to be fully released in the coming days.
Skillshare
At the second place, we have Skillshare. If you're someone who's interested in a multitude of creative pursuits and want to learn more about them, Skillshare is the app for you. Skillshare offers a variety of learning resources for a monthly or annual fee which allows you to learn all that is available on the platform. The platform is focused on creativity and provides very good guidance and support for any creative endeavor you might be pursuing.
Skillshare is available on both iOS and Android and you may begin your journey with their monthly subscription.
Udemy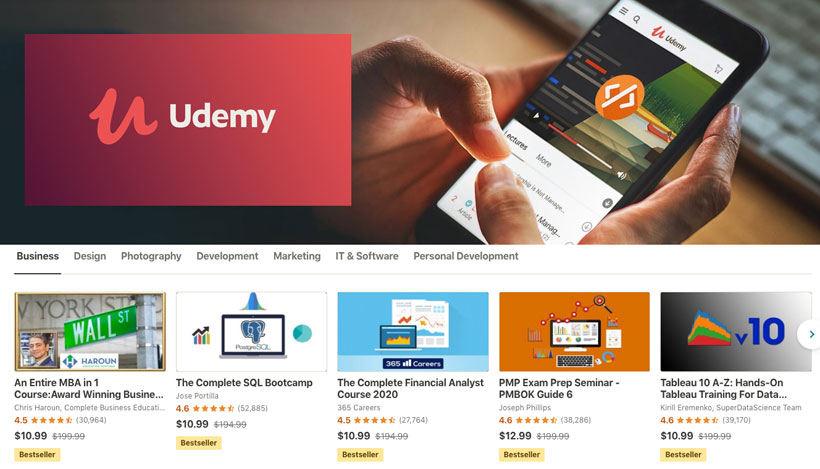 Coming to the third platform on our list, Udemy is one of the best learning platforms online. Offering over 100,000 courses on a variety of topics, Udemy is the preferred platform for many enthusiasts over the world. It is a highly practical and hands on platform that offers a lot of room for learning. From technical courses to courses like everyday fitness, Udemy has it all. And in addition to the online video courses, you also get the opportunity to chat with the instructors for the courses, and have your queries resolved.
Udemy is available for all major platforms such as Windows, iOS, and Android. You may go onto the platform any time and select the courses you want. There are a lot of sales on the platform so keep an eye out for them.
Blinkist
Next up, we have Blinkist. It's a platform that almost everyone knows about, yet it's so underrated. A boon for those who want to learn on the go without investing much time, Blinkist offers something that no other app on the market does. It takes more than 3000 non fiction books and sums up the big ideas and the things you need to know, by shrinking them into short 15 minute summaries. Now you don't have to read another 300 page book to learn something new, when you can just get the entire idea on Blinkist. Sure, if you really like the idea, you can read the book afterwards. But Blinkist offers that insight that would let you learn a big idea everyday.
Blinkist is available both on iOS and Android. The app is free to download, and contains in app purchases.
TED
Last but not the least, we have TED. TED is an app that is just rife with learning. Elegant personalities from around the globe and all walks of life come up to the stage, and deliver their talk. In fact, TED is an amazing app for adults and those who want to learn about the small and big things about everyday life. If you want to expand your horizons and learn about life from perspectives different than yours, TED is the way to go. The app has accumulated a humongous library of videos up until now, and will surely be a source of knowledge for those who seek it. TED is completely free of cost, and available to all.
TED is available on iOS and Android. It is free to download and access.
With this we round up our list of 5 best apps to upskill yourself during this pandemic.